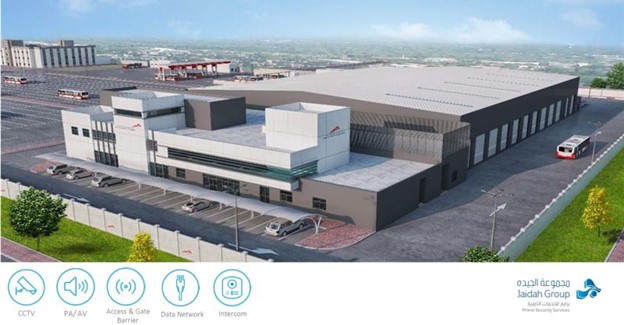 Jaidah Prime Security Services (PSS) is proud to be a part of the MOTC Public Bus Infrastructure Programme by supplying all ELV systems for the Industrial area Bus Depot at St.22 – one among the major 5 stations which are under execution as Qatar is gearing for FIFA 2022.

The facilities are being designed in accordance with the Global Sustainability Assessment System (GSAS), the first performance-based system in the Mena region, developed for rating green buildings and infrastructures. The ELV systems provided by Jaidah PSS includes more than 650 cameras, Access control systems, Intercom, Gate Barriers, AV system for all meeting rooms and structured cabling systems.

One of Qatar's key strategic objectives is supporting transit operations during FIFA 2022 to make the country second-to-none worldwide in using electric, eco-friendly vehicles during the FIFA championship.

The new depots will include a bus care centre and bus parking spaces fully equipped with an infrastructure supportive of e-bus charging.