Energy
Welcome to Jaidah Energy, we have been providing trusted and reliable energy-based solutions for Qatar's oil and gas sectors for over 40 years. We can provide your organisation with the products, services and programmes required to be more efficient.

Energising the future
Innovative & Reliable
Maximise your potential with our expert solutions. We partner with the world's best companies to help you achieve your ambitions and optimise your possibilities.
We deliver the best-in-class technologies, high-quality partnerships and petrochemical solutions you need to be a leader in your field. We provide efficient solutions for well construction and interventions, refineries, power plants, water and waste treatments, fertiliser plants and petrochemical complexes. From developing well intervention and P&A programmes, optimising operational safety to assets integrity evaluation and well lifecycle, we can put the right solutions in place, all while minimising yours and the industry's environmental impact.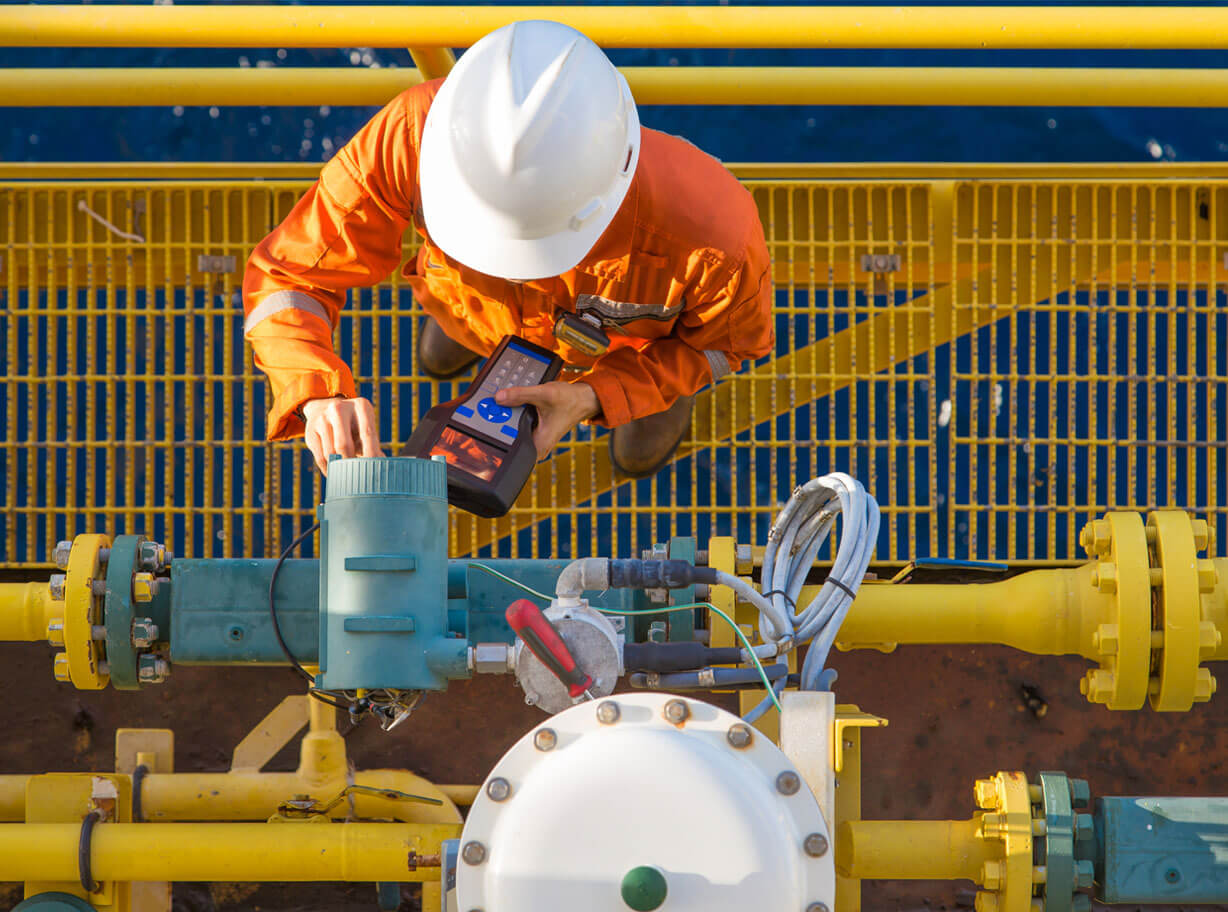 Chemicals DS & WT
Chemicals UPS
Instrumentation & Mechanical
Safety
Well Services
Cooling Water Treatment Chemicals
Figure 1. Schematic of a primary open re-circulating and secondary closed cooling system arrangement.
Corrosion inhibitors, scale dispersants and biocides used in open, closed and chilled cooling water treatment.
Boiler Water Treatment Chemicals
Oxygen scavengers, sludge conditioners and condensate treatment for packaged, coil tube, water tube, single drum and power plant boilers.
Fresh & Potable Water Treatment Chemicals
Food grade range of products with base of silica and phosphate used in hotels, hospitals and industries.
Waste Water Treatment Chemicals
Coagulants, flocculants and micro biocides for clarifier, aerator, primary and secondary treatment.
Fire Water Treatment Chemicals
Corrosion inhibitors, bio dispersants and biocides.
Remineralization Chemicals
Sodium bicarbonate and calcium chloride (food grade quality)
Commodity Chemicals
High pure sodium chloride, ferric chloride, sodium hypo chloride, calcium hypo chloride, etc. used in hotels, hospitals and industries.
Valve Lubricant & Sealant
Specialized gate valves lubricants & sealants, approved by several leading API 6A OEMs, exceptional performance across the widest range of well operating conditions, processes and equipment applications.
Ethylene Glycol
Tri Ethylene Glycol, Sulfolane, Piperazine, DIPA, MDEA, DMDS, MEA, Methonol
Water Treatment Plants
Softeners, DM, RO plants, chemical dosing tanks, chemical dosing pumps, chemical shot feeder skid mounted plants used in hotels, and hospitals. Also, we will design, supply and installation.
Drilling Fluids
Weighting Agent Barite 4.1 4.2

Calcium Carbonate – Fine Medium Coarse

Viscosifiers Bentonite API Spec 13A

Soda ASH Light Caustic Soda

Stabilizing Agent Hydrated Lime

Rheology Modifier: Magnesium Oxide

Strength Stabilizing Agent – Silica Flour
Cementing Chemicals
Extender – Sodium Silicate

Antifomaing Agent – Silicone Base

Light Weight Slurry Additive – Glass Bead, Microflyash, Cenospher
Well Stimulation
• Mutual Solvents – Egmbe
• Corrosion Inhibitor – Methanol
• Ihhibitor Aid- Formic Acid
• Chelating Agent – Tetrasodium Ethylenedimainetetracetate
Instrumentation & Mechanical
Foxboro
Manufacturer of Control System & Process Instrumentation: The Foxboro brand is committed to provide the best instrumentation products and services to their customers. Process Instrumentation offers complete solutions from instruments in the field to the control room to enable you to optimize your assets: people, equipment and plant.
Foxboro I/A Series Overview. DCS / SCADA systems.

Valve Positioner (SMART, Electro-Pneumatic)

Pressure Transmitter (Range: 0- 420 bar; Material: SS316, Hastelloy, Monel)

Flow meter (Type : Vortex, Coriolis, Magnetic Flow meter, DP Flow)

Level Transmitter
(Type: DP, Displacer Type, Guided Wave Radar)
Mokveld
Manufacturer of axial flow valves, Hipps systems. Mokveld provides the gas, oil and water industry with expert knowledge and advanced engineered valve systems for critical control and safety applications. Specialising in axial flow valves.
High Integrity Pressure Protection Systems (HIPPS)
Sizes: 2" – 48" | Ratings: ASME 150 – 2500 or API 3000 – 10 000 | Higher pressure ratings upon request
All: EN14382 certified (former DIN3381) | Full closure in 2 seconds

Axial Shut-off /On-Off Valve
Sizes: 2" – 72" | Ratings: ASME 150 – 2500 or API 3000 – 10 000 | Higher pressure ratings upon request

Axial Control Valve
Sizes 2"-72" | Rating class ASME 150 – 2500 or API 3000 – 10000 | Higher pressure ratings upon request

Angle Choke Valve
Sizes 3" – 20" | Rating class ASME 600 – 2500 or API 3000 – 10000

Axial Check Valve
Sizes 2" – 84" | Rating class ASME 150 – 2500 or API 3000 – 10000 | Higher pressure ratings on request

Axial Surge Relief Valve
Sizes 6" – 12" | Rating class ASME 150 – 900 | Higher pressures upon request
Eagleburgmann
Manufacturer of mechanical seal & expansion joints. Eagleburgmann is one of the leading providers of industrial sealing technology. Our products and comprehensive services are used wherever the key requirements are reliability and safety.
The Eagleburgmann portfolio includes mechanical seals and seal supply systems, magnetic couplings, carbon floating ring seals, expansion joints and gaskets, packings, special products and extensive services.
Mechanical Seals (Dry Gas Seal & Wet Gas Seal, Magnetic  Coupling).
Expansion Joint & Bellows (Rubber, Fabric, Metal). 
Roxar
Manufacturer of multiphase flow meter, corrosion probes and coupons, downhole gauges. Roxar offers software for reservoir interpretation, modelling and simulation, as well as instrumentation for well planning, monitoring, metering and production optimization.
Corrosion Probes & Coupons

Corrosion Probes & Coupons
Portable Gas Detection
Offering different types of personal gas detectors to all oil and gas clients. Single gas detector, multigas detectors, area monitors etc.

Calibration Gas
Offering different types of calibration gases required for fixed and portables gas detectors.

Enventure
Same drift expandable liners are a new technology that has not been used in the Qatar market before. These liners allow operators the ability to seal off trouble zones and land their wells where planned.
TGT
TGT is the global leader in through-barrier diagnostics for the oilfield. They create products and technology that diagnose flow and integrity throughout the well system, from the wellbore to the reservoir, empowering our customers to make better decisions and improve asset performance.
Two decades of applied research and an enduring commitment to geoscience and technology innovation has enabled TGT to develop powerful diagnostic systems that see more – accurately and completely – giving customers the truest picture of their wells and what's happening in and around them, enabling them to transform their productivity.

Ardyne
Plug and abandonment solutions are a new technology that has not been used in the Qatari market. These tools have the ability to cut and pull casing all in one run, substantially reducing costs. These tools can also be run in rigless interventions which is a huge cost saving over using a drilling rig.
Emerson
Completion line clamps have been used in the Qatari market for over 10 years and provide the benefit of 25% less drag while installing completions. Being made out of a unique poly blend of products the are resistant to corrosion and are very durable and flexible compared to steel clamps.