Industrial Supplies
Welcome to Jaidah Industrial Supplies, we have been supplying world-class products and after-sales service to cater for Qatar's industrial sectors for over 45 years. We know you need to minimize downtime, so we make sure you have the right tools for the job.

Driving industry forward
Genuine & Reliable
Achieve operational excellence through innovative product lines and genuine parts, all supported by dependable service, because we recognise that your reputation matters.
You need to maximise productivity while minimizing downtime, and in industry that means tough tools for tough jobs. We ensure you are operating to maximum efficiency through high-quality machinery, vehicles, tools, workwear and personal protection equipment. We have experienced sales consultants to help and advise where necessary, a fleet of delivery trucks to deliver the equipment where you want when you want and superior customer service to keep you coming back time and again.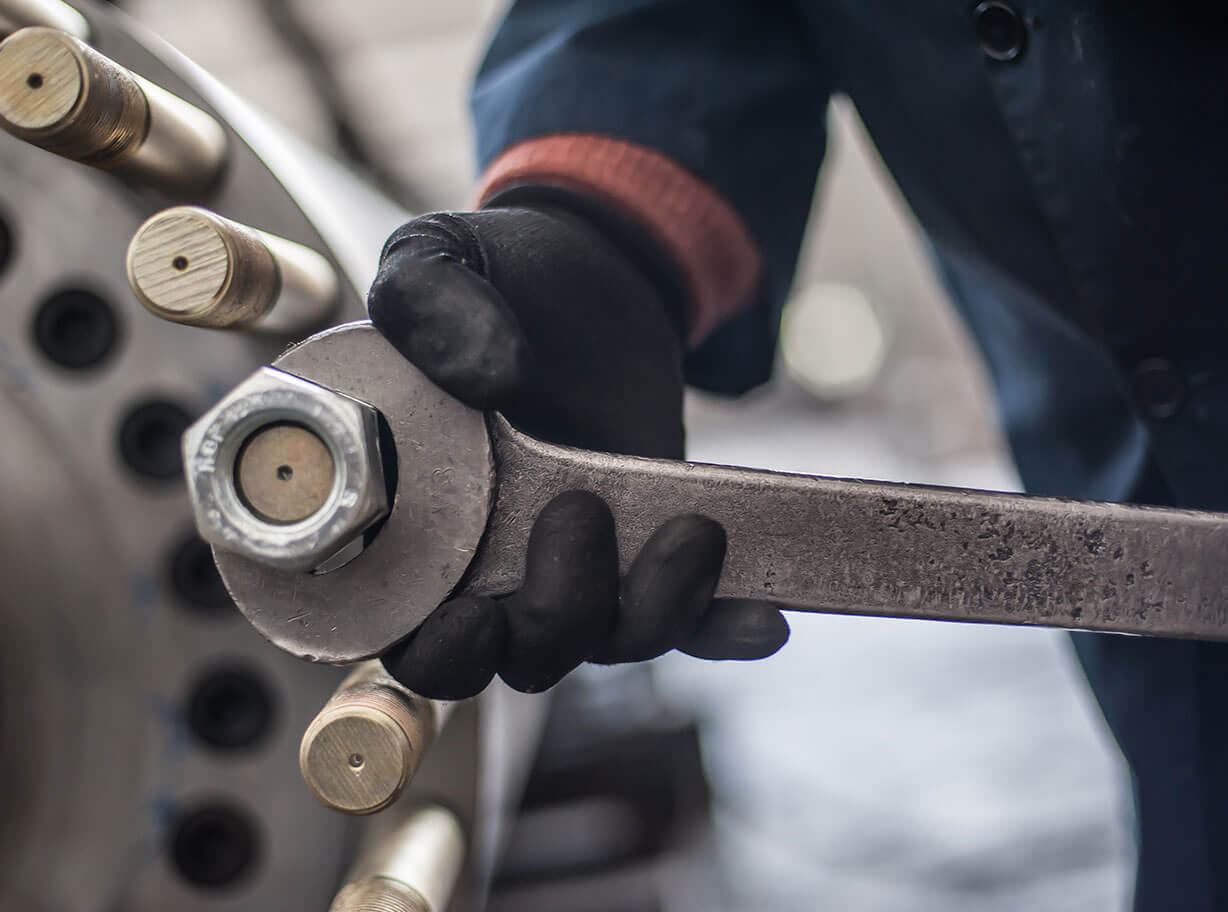 Cleaning Equipment
Construction
Garage Equipment
Intralogistics
Metal Fabrication
Safety
Tennant
Tennant, a world leader in the designing and manufacturing of solutions that help create a cleaner, safer, healthier world. Its products include equipment for maintaining surfaces in industrial, commercial and outdoor environments. Tenant is headquartered is in Minneapolis, USA and has 8 major global locations and has expanded the business across the globe.
Wet Vacuum

Tank Capacity: 16 Lit (to) 48 Lit / with Trolley

Back-Pack Type

Tank Capacity: 5.7 Lit / HEPA FILTER

Dry Vacuum

Tank Capacity: 11 Lit (to) 16 Lit / HEPA FILTER

Walk Behind Type

Cleaning Path – 270 mm/ 300 mm
Solution Tank – 15 Lit (to) 19 Lit
Corded Canister Extractor
Optional Hand Floor tool and Wall tool

Ride-on Type

Cleaning Path – up to 660 mm
Solution Tank – 110 Lit
Battery Operated ( 4 Hours Running Time)
Optional Hand Floor tool and Wall

Ride-on Scrubber Machine

Battery Operated and Diesel Operated
Tank Capacity – 110 Lit (to) 320 Lit
Running Time – 3 Hours (to) 10 Hours

Single disk Machine

Scrubbing & Polishing
Disk – 430mm / 14 Lit Solution Tank

Walk-Behind Machine

Tank Capacity – 23 Lit (to) 102 Lit
Running Time – 2 Hours (to) 8 Hours

Stand-on Scrubber Machine

Tank Capacity –70 Lit
Running Time – 4 Hours

Ride-on Sweeper-Scrubber Machine

Battery Operated and Diesel Operated
Integrated Sweeper & Scrubber
Tank Capacity – 300 Lit (to) 400 Lit
Running Time – 3 Hours (to) 10 Hours

Battery Walk-Behind Sweeper Dual Side Brush

Cleaning Path – up to 900 mm
Tank Capacity – 50 Lit (to) 85 Lit
Battery Operated ( 4 Hours Running Time) /Manual Sweeper
Twin-Max Technology

Ride-On sweeper (With AC Cabins ) Dual Side Brush

Cleaning Path –up to 1830 mm
Tank Capacity – 85 Lit (to) 850 Lit
Dust Control System up to 0.5 Microns
Industrial Dual Canister option available
Innovative *Sweep-max and
Shake-Max Technology
Twin-Max Technology

Green Machine – Municipality/Community cleaning

Battery and Diesel Operation
Cloud-Maker Dust control Technology
Hopper Capacity up to 1 Cu.m
Cleaning Path up to 2050 mm

Road Sweeper

Vario Brush up to 3.2 m
Hopper capacity -2.6 Cu.m
Dump height Up to 2.9 m
Choice of Wet or Dry Operation
Includes Vacuum Wand
Cherrington
The unique Cherrington screening system can be quickly and easily adapted to meet your changing conditions. Whether you are doing beach cleaning, need a rock picker, track screener or even firing range clean up, this reliable system allows you to choose the size of the material you need to screen out, while giving you the fastest and most efficient operation possible.
Beach Screeners/Groomers

Self-Propelled Models (Up to 1.5 Cu.m)
Pull Type Model (Up to 0.8 Cu.m)
Mechanical/Hydrostatic Type
Lehmann
Glass, ceramic, aluminum and steel determine our modern urban architecture. Shapes and materials get more and more daring, but an unproblematic and efficient cleaning of façade elements is hardly taken into account during the planning and construction period. Quite often, the single glass or façade components are hard to reach, which makes a cleaning with conventional methods time consuming and costly. Here, the proven cleaning with QLEEN Pure Water Cleaning Systems offers the perfect alternative to conventional cleaning methods with lifts and ladder.
Façade Cleaning Equipment

Manual Cleaning Lance (Up to 12 m)
Auto cleaning System (Up to 18 m)
Robotic Cleaning System

Facade cleaning unit 12 : 25 M

Facade cleaning unit 12 : 25 M

Facade cleaning unit 12 : 25 M
ICARO
ICARO is the world's leading company in the production of machines for the processing of
iron rods used in reinforced concrete.
Their constant attention for progress and new discoveries in the engineering and mechanical fields is what keeps ICARO ahead as they face challenges that have been getting more and more exciting over the years: for instance, the introduction of Bluetooth technology used for machine diagnostics. Quality, creativity and an
all-Italian design are just some of the characteristics that have made the Icaro
brand renowned worldwide.
Rebar Cutting (Cutting the steel rebar with different application and sizes: 36 mm ,42 mm , 52 mm. Made In Italy)

Rebar Bending (Bending the steel rebar with different application and sizes: 36 mm ,42 mm , 52 mm. Made In Italy)
ENARCO
ENARCO is a Spanish company devoted to the manufacture of light machinery for construction. Since its creation in 1964, its trajectory has consolidated it as a leading company in the sector, both in the national and in the
international market.
Diesel & Petrol engines
Compaction range 90 : 140 KG

Electrical poker
Head diameter from 30 : 60 mm
Length: 6m & 12m

Mechanical concrete poker
Head diameter from 26 : 75 mm

Mechanical concrete poker
Head diameter from 26 : 75 mm
VIBTEC
VIBTEC is manufacturer of pneumatic vibrators and since it has been established in 1962, it has been involved in the design, manufacture and supply of vibration products to both the construction and industrial sectors for over
50 years.
High Speed Flexible Drive Pokers And Power Units

VWU Flexible Drive Pokers

Mechanical concrete poker
Head diameter from 26 : 75 mm

600 Series Pneumatic Internal Vibrators
RIDGID
With construction that's durable beyond compare and components that are engineered to work in the most extreme environments, there's a reason more expert tradespeople trust RIDGID than any other pipe fabrication brand. From their complete in-shop setups to portable, yet durable, designs, RIDGID delivers performance that helps you get the job done with precision, safety and efficiency.
HEYCO
HEYCO is highly regarded among the specialist shops as a supplier of high-quality tools. The company's new developments and product lines are an example of innovation at its best. The aim at HEYCO is to manufacture tools to a certain stage of production in large amounts and at low costs. These tools are also available on demand in small batch sizes, guaranteeing a high-quality end product under any label.
Hand tools and tools assortment
Whirl Power
Whirl Power is a reputed manufacturer of hand tools for the construction, machinery and automotive industry. With 30 years experience in designing and producing quality finished products, the Whirl Power brand name is fast becoming a household name in numerous European, Asian and South American territories.
Hand tools and tools assortment

Portable tools assortment
UNITOOL
Unitool always put quality first because their customers safety depends on it.
Their commitment to quality goes beyond the quality of their products.
Hand tools and tools assortment
ABAC
Since 1980, ABAC offers the right mix of flexibility and experience for the professional and DIY compressed air markets.
Screw air compressor and air solution
ALMIG
ALMiG stands for Automatische Luftpumpen – made in Germany (automatic air pumps – made in Germany) and is one of the leading compressed air technology system providers and has decades of experience delivering premium products in the compressed air sector.
Screw air compressor and air solution

Screw air compressor and air solution
Rotary Lifts

OMCN

Direct Lift
Whether it be a 2 post lift or 4 post lift – Direct Lift offers everything you need for any home enthusiast, hobbyist, restoration facility, or professional mechanic. Direct Lift has over 100,000 lifts and offer a safe and reliable service throughout the world and enjoys worldwide recognition as "America's #1 Hobbyist Lift"

BendPak Lift

Termomeccanica GL
Painting booths and preparation stations. Leaders in car body.

Chief Automotive
Chief Automotive Technologies offers the most extensive line of collision repair equipment, including frame machine, measuring tools, anchoring systems, welding, aluminum repair, aluminum welder and vehicle specification products.
Attachment and accessories for the measuring system
Hofmann Group
Hofmann is part of the powerful, efficient Snap-on Group and has been partner to the automotive and tyre industries for decades. For more than 80 years our name has been synonymous for quality and competence in garage equipment; certainly an essential reason why our machines have been approved and recommended by many important car manufacturers.

Comec
Comec is a leading company in the global automotive equipment manufacturers specializing in the production of machine tools and equipment primarily intended for the reconditioning of brake components, clutch and engine parts.
Truck brake lathe machine

Truck brake lathe machine

Cylinder head guide press

CNC Head and block resurfacer

Pressure tester for cylinder heads and blocks
AZ Spa
AZ's story started in 1953 under the name Zanrosso in the field of automotive aftersales service with the production of lathes for brake drums and discs for vehicles. In 1976, Tecnodue Company was created and its speciality was in garage equipment such as two-post lifts and gas analysers. Year by year the products improved until they became a worldwide leader in machine tools for engine rebuilding, marine engines and railway engines.

Robinair
Robinair's position as a global leader in service tools and equipment is the result of evolution and recognizing market opportunities. Robinair was founded in 1956 by the Kent – Moore Corporation of Warren, Michigan, to design and manufacture specialized tools for repairing appliances. The name of the new company was a combination of the names of two Kent-Moore executives, Robinette and Adair. With the increasing popularity of air conditioning, both for homes and automobiles, Robinair soon moved into this growing market. In just a few years, the product line was the most complete in the industry.
Manual ac recovery machine

Automatic ac recovery machine
Pro-Cut
Pro-Cut's tight focus on product and every customer need has made them the world leader in on-car brake lathes, an accomplishment they seek to build on every day.
Automatic ac recovery machine
Motorvac
MotorVac develops, manufactures and distributes fluid exchange and diagnostic equipment and various types of preventive maintenance service products to the automotive aftermarket. The product line continued developing into different automotive fluid exchange systems and is now recognized as a leading supplier of professional automotive maintenance equipment and service products.
Carbon and injector cleaning machine and chemical

Radiator flashing machine and chemical
Rodcraft
Since 1974, the Rodcraft brand stands for high-quality products and services. Founded in Germany, Rodcraft has grown steadily to become one of the world's leading brands of pneumatic tools and workshop equipment dedicated to the vehicle service and industrial maintenance applications.

Cool-Space
Cool-space offers and designs a highly efficient portable evaporative coolers with the ability to deliver great temperature drops even in high humidity climates whilst using very little electricity.

Raasm
RAASM equipment has been designed and tested to be used across numerous sectors, including automotive, industry, agriculture, mining, the chemical industry, shipping, offshore and in the cleaning sector.

Triens
Triens is a reel manufacturer originating in Japan in 1963. Utilizing advanced reel technologies, and their creative and development capabilities, they are providing the best reel solutions for our customers' environments globally.
electric cord reel with light
Badger Meter
Badger Meter offers innovative flow metering and control solutions for smart water management, smart buildings and smart industrial processes, to help measure and protect resources for a smarter world.
Master keypad for oil management system
Worky
Worky is a brand that was born from the long experience of a group of people working in the automotive industry who have specialized in automotive repair products and systems.

Oertzen GmbH
For more than 60 years von Oertzen GmbH of Ammersbek, Germany, has been specializing on water jetting systems for industry and commerce. Being an independent and successful company OERTZEN offers persistent quality products and develops tailor-made solutions for customers and markets.
Electric High pressure cleaner

Diesel and petrol High pressure cleaner

Hot and cold High pressure cleaner
RMP
RMP is one of the leading manufacturers of the in ground washing lifts.
Hydraulic single post washing lift
MTM Hydro
MTM Hydro is the market leader in the design and manufacturing of components and accessories for high pressure cleaners and car wash centers, and more recently in the design and construction of self-service car wash machines with its new car wash equipment range.

SSI Schaefer
SSI SCHAEFER is your systems specialist for intralogistics.
Future-proof logistics solutions must fit seamlessly into your operational processes, be infinitely expandable, and adapt flexibly to new conditions.
This, in turn, requires specialists and experts who think in terms of systems rather than individual, isolated activities. At SSI SCHAEFER, this integrated system philosophy has been the basis of their success for decades. Their extensive portfolio of solutions and products covers the entire spectrum of intra-company material flow processes. Continuously expanding with new innovations, their portfolio enables them to provide tailored solutions, which are designed to meet the exact requirements of their customers.
STILL – First in intralogistics
STILL is one of the global leading suppliers of forklift trucks, platform trucks and tractors plus the latest intralogistics systems. With around 9,000 employees, 4 production plants, 18 subsidiaries plus a dealer network of 246 dealers worldwide, STILL is successfully active on an international scale. And all this since 1920.
Find out more!
Order picker with turret head or telescopic fork
Stertil
Stertil Dock Products is synonymous with well-designed Loading Bay Dock projects throughout the UK and Europe, specialized in the design, manufacture, installation, commissioning and maintenance of loading bay equipment and industrial door systems.

Hart Door Systems
Hart Door Systems is a leading designer and manufacturer of industrial doors systems. It also produces fire and security products again for widely differing applications such as interfacing with conveyor belt systems, machine guards and other instances requiring automatic action, speed of operation and protection. Optimizing, integrating, automating, and managing the logistical flow of information and material goods within the walls of a fulfillment or distribution center.
Fire Resistant to British Standards

Fire & Certified Security

Fire Resistant & Insulated

Terror Screen LPS 1175 SR2

Terror Screen LPS 1175 SR3

Terror Screen LPS 1175 SR4

Stainless Steel Roller Shutter

RS – Environmentally Enhanced

Industrial Roller Shutter
Konecranes
Konecranes is a world-leading group of Lifting Businesses™, serving a broad range of customers, including manufacturing and process industries, shipyards, ports and terminals. Regardless different lifting needs, Konecranes is committed to providing the right lifting equipment and services that increase the value and effectiveness of operations. Konecranes has wide range of lifting equipment ranging from Overhead Cranes, Monorail cranes, Jib cranes, Gantry cranes and Explosion proof cranes
Overhead cranes (EOT Cranes)
A-Safe
Established in 1984, A-Safe's 30 years experience in polymer science is unmatched.
Research, development, design, testing and manufacture; the entire process is owned and controlled at our Innovation Centre HQ, before being exported to the world. With a cycle of innovation striving for continuous improvement, they're a local company driving the global standard
Fronius
As the global welding technology leader, Fronius is a reliable partner to countless well-known customers across all industries. We work closely with you to develop individual solutions that are perfectly tailored to your specific needs, drawing on our decades of experience, extensive expertise and precise knowledge of your processes.
TRANSPOCKET 4000 & 5000Cel

HMI-T10 MULTIPLE APPLICATION

LONGITUDINAL SEAM WELDING

AUTO DARKENING HELMET WITH AIR
Hypertherm
Hypertherm's commitment to engineering and building the best industrial cutting solutions on the market dates back more than 5 decades.
Hypertherm-Machine-Torch-Assembly-PMX45
Askaynak Lincoln
Askynak strives to ensure that the demands of the Welding accessories market are met and is committed to offering top quality products and services to all customers.
KOBATEK SPECIAL ELECTRODES
KÖCO
As one of the leading suppliers of studs and stud welding technology, KÖCO stands as a reliable partner with many years of experience.
FLANGED STUD WITH INTERNAL THREAD AND IGNITION TIP

THREADED FLANGE WITH IGNITION TIP

THREADED STUD WITH FLANGE
Euroboor
Euroboor, a specialized brand in Industrial Portable Tools, constantly upgrading their technology to provide leading edge products that perform.
EUROBOOR – 860 (1100W 24.2 KG)

EUROBOOR – ELM 125 (125 KG – 2000 KG)

MACHINE TAPS – THROUGH HOLES 900270C

EUROBOOR – BS 110 (EUROBOOR 10 PIECE ROTARY BURST SET – SHAFT 0.6)

1-13 MM (DIAMETER 01 – 13 MM)
Clemco
Clemco is the world's largest manufacturer of air-powered blast equipment used to clean, deburr, shot peen, remove coatings, finish, or otherwise improve the surface being blasted.
Sand Blasting Machineries
Trafimet
Trafimet Group has been in the welding market for over 40 years, in this time it has been known throughout the world for the reliability of its products. Trafimet Group has evolved from a small producer to one of the largest industrial companies in the sector of welding torches.
Auto darkening helmet with air

Anti spatter & zinc spray
Baykal
Leading manufacture of workshop machineries from Turkey.

Heller/Follow
Heller Machinery has more than 25 years in the conventional machine tool sector, specialized in lathes, milling machines, drills, boring machines and grinding machines.
Scantool
Scantool is the first to develop and start up serial production of the well-known industrial belt grinders.

Akyapak
Akyapak machines provide high quality manufacture and application solutions to customers in many fields directing the global economy such as automotive, marine, aviation technology, construction, heating and cooling, energy, petrochemistry, defense industries.

Steeltailor
SteelTailor is engaged in the cutting and welding business for nearly 17 years. They focus on providing the world with innovative and affordable CNC cutting solutions.
CNC PLASMA – TUBE CUTTING

DragonIII – CNC PLASMA CUTTING MACHINE
Body protection
Offering different types of garments such: Workwear, cotton, fire retardant, high visibility clothing, chemical protection, winter jackets, cold storage and welding solutions.
Brands: Red Wing, Honeywell, Portwest, Taesan Corporation, Nomex By Chandra impex.
Foot protection
Offering different footwear depend on the application such: low cut shoes, ankle boot, rigger boot, anti-static boot, cold storage and welding solution.
Brands: Red Wing, worx by Red Wing, Portwest, Coverguard by Sacla.
Head and Face protection
Offering different solutions to protect head, face, eyes and ears such: hard hats, face shields, welding helmet, safety glasses, chemical goggles, welding goggles, ear muffs, ear plugs, eye wash solution.
Brands: Red Wing, Portwest, Honeywell
Hand Protection
Offering different type of hand protection depend on the application such:
General working gloves (cotton, leather, palm coated), cut resistant gloves and sleeves, impact resistant gloves, chemical gloves, welding gloves, electrical.
Brands: Portwest, Honeywell, Ringers, Salisbury, Holly Signs, Golden Leo
Respiratory protection
Offering different types of breathing related safety solutions such as:
Dust mask, half and full face mask with filters.
Brands: Honeywell, North Safety
Spill solutions
Oil/chemical spill related solutions such:
Spill kits (different capacity), spill pads, spill pallets (different capacity)
Brands: ESP
Ears and eyes
Offering different product for all applications of site that offer high level protection for ears and eyes such as: Glasses, goggles, ear muffs, ear plugs.
Brands: Red Wing, Honeywell, Portwest, Euro Protection.