Jaidah Heavy Equipment
Welcome to Jaidah Heavy Equipment, we have been a key force behind the industrial development of Qatar. We can provide you with the right portfolio of industrial equipment brands to meet your objectives, all backed by excellent customer support.

Create the future
Smart & Reliable
Depend on our heavy equipment for high quality and optimum performance time after time.
Achieve your objectives and your ambitions with Jaidah Heavy Equipment. While you will see our heavy equipment throughout the length and breadth of Qatar, we go further by consulting carefully with you before we make any recommendations, often suggesting innovative approaches to overcome challenges.
We provide sales and service solutions that are both smart and reliable and that will keep you operational around the clock and help cement your reputation for dependability too.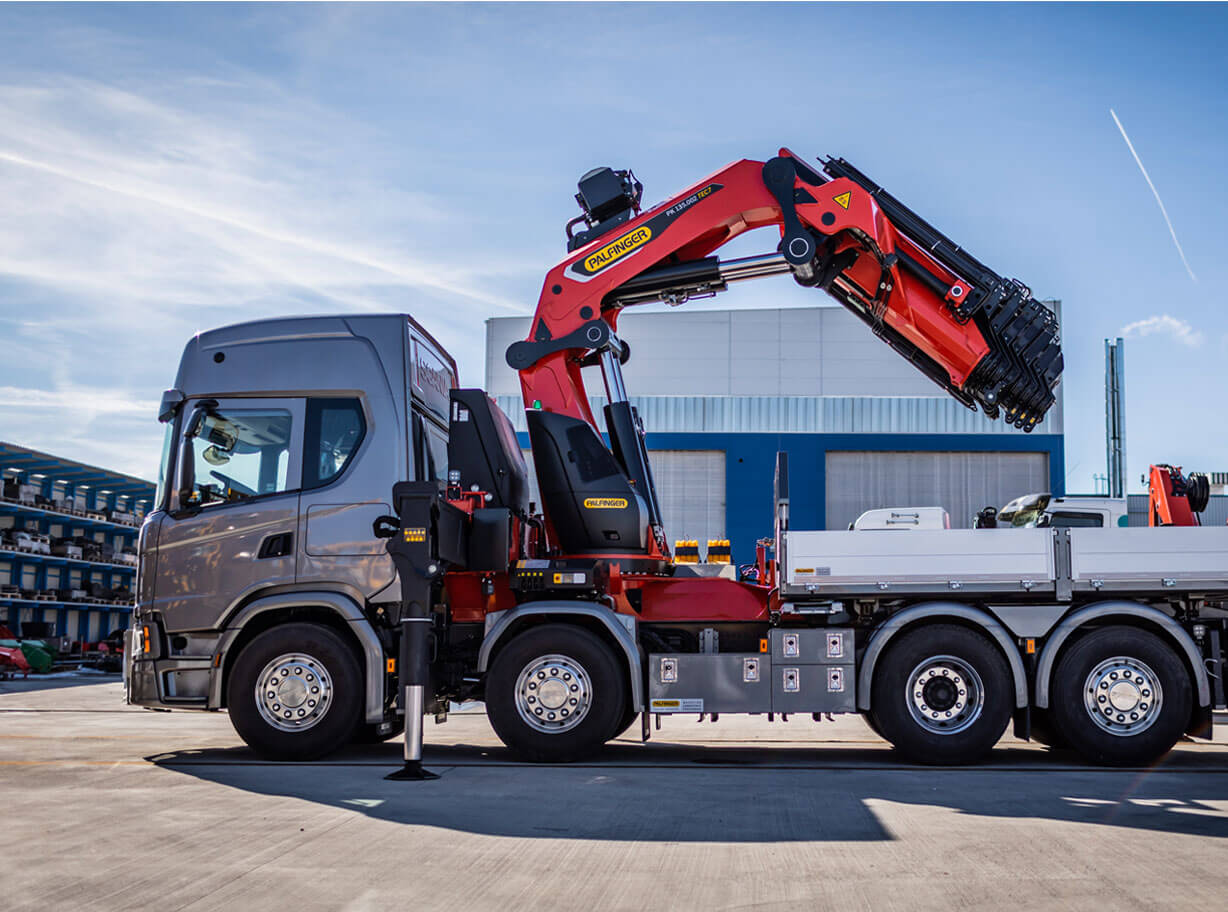 Construction Equipment and Cranes
Link-Belt mobile cranes
Trucks and truck mounted cranes
Komatsu
Komatsu is a Japanese multinational corporation that manufactures construction, mining, forestry, and military equipment.
Komatsu's management philosophy is to commit ourselves to quality and reliability and maximize the sum total of the trust given to them by all stakeholders and society.
Komatsu is the leader in heavy equipment, with the largest range which includes:
track excavators, wheel loaders, bulldozers, motor graders, off high rigid dump trucks and articulated dump trucks.
All the machines are equipped with KOMTRAX satellite system which provide all the data needed for the customer to control.
Track Excavators Range

PC210-10M0 20-22 TON

PC300-8M0 30-35 TON

PC350-8M0 35-38TON

PC400-8R 40-45TON

PC500-8R 50-55TON

PC600-8R 60-65TON

PC850SE-8R 80-85 TON

Motor Grader Range

GD675 17ton 14' feet blade
GD705 22ton 14' feet blade
GD755 24ton 14 feet blade

Komatsu Wheel Loaders Range

Wa320-5 bucket 2.5cum
Wa380-5 bucket 3.6cum
Wa430-5 bucket 4.0cum
Wa470-5 bucket 4.6cum
Wa500-6 bucket 5.4cum
Wa600-6 bucket 6.5cum

Bulldozers Range

D65-16 EX Blade 5.6 cum
D85-15EX Blade 7.0 cum
D155-6R Blade 9.0 cum
D275A-5R Blade 13.6 cum
D375A-5R Blade 18.5 cum

Off-High Way And Articulated Dump Trucks Range

HD325-7 GVW 65T
HD405 -7 GVW 75T
HM300-3 GVW 52T
HM400-3 GVW 68T

Forklift Range

FD30 3Ton
FD50 5Ton
FD70 7Ton
FD100 10Ton
FD150 15Ton
Sany
Sany crane models cover mobile, crawler and tower cranes with the lifting capacity ranging from 25t to 1600t, providing a vast range of lifting solutions to all construction sites.
Truck Cranes

STC250 – 25 ton
STC300 – 30 ton
STC500 – 50 ton
STC600 – 60 ton
STC750 – 75 ton
STC800 – 80 ton
STC1000 – 100 ton
STC1300 – 130 ton
STC1600 – 160 ton

Rough Terrain Cranes

SRC350 – 35 ton
SRC550 – 55 ton
SRC750 – 75 ton

All Terrain Cranes

SAC1800 – 180 ton
SAC220 – 220 ton
SAC3000 – 300 ton
SAC3500 – 350 ton
SAC6000 – 600 ton

Crawler Cranes

SCC 550A – 55 ton
SCC 600A – 60 ton
SCC 750A – 75 ton
SCC 800A – 80 ton
SCC 900A – 90 ton
SCC 1000A – 100 ton
SCC 1350A – 135 ton
SCC 1500D – 150 ton
SCC 1800 – 180 ton
SCC 2600A – 260 ton
SCC 3200A – 320 ton
SCC 4000A – 400 ton
SCC 5000A – 500 ton
SCC 6500A – 600 ton

Tower Cranes

SYT80 – 6 ton
SYT80C1 – 8 ton
SYT160 – 10 ton
SYT315 – 16 ton
SYT250 – 12 ton

Reach Stacker

SRSC1009 – Rated Load 10ton
SRSC3615 – Rated Load 36ton
SRSC4535H –Rated Load 45ton

Placing Boom

HGY18 – Placing radius 18m

Concrete Pump

SYG5360THB – 43 meters and 49 meters
SYG5423THB – 56 meters
SYG5532THB – 62 meters
Bobcat
Bobcat is the manufacturer of farm and construction equipment, covering a wide range of applications, along with a wide range of attachments. The company sells skid steer loaders, compact excavators, compact utility vehicles, tele handler, backhoe loader, compact tractors, and other small hydraulic equipment.
Skid Loader Range

S450
S510
S550
S650
S850
T590

Mini Excavators Range

E20 – 2.0T
E35 3.5T
E45 4.5T
E55 5.5T
Link-Belt
Link-Belt Mobile Cranes is a leader in the design, manufacture and sales of telescopic and lattice boom cranes, with headquarters in Lexington, Kentucky. Link-Belt is committed to the design, manufacture and service of quality products that satisfy the needs of its customers worldwide, specifically towards the oil and gas sectors.

Doosan
Doosan Power. (portable air compressor, tower light)
The Doosan power range offers a complete solution for constructions sites.
Compressor Range

P135 135CFM
P185 185CFM
P260 260CFM
P375 375CFM
Trucks and truck mounted cranes
UD Trucks
UD Trucks offers a complete solution for all truck related applications. UD products go the extra distance, giving our customers extra fuel mileage and uptime.
International Trucks
International Trucks is a leading producer of medium-duty trucks, heavy-duty trucks and severe-service trucks. International products, parts and services are sold through a network of nearly 1,000 dealer outlets in the United States, Canada, Brazil and Mexico.
4×2 Truck (Customizable)
4×4 Truck (Customizable)
6×4 Truck (Customizable)
6×6 Truck (Customizable)
Astra
Develops robust, reliable and versatile trucks which are customized to meet specific client needs. These vehicles operate on challenging and remote work sites such as quarries and mines. Ongoing research has led to the development of efficient technologies and the reduction of emission levels.

Palfinger
Palfinger offers a complete range of truck mounted knuckle boom lifting solutions. Palfinger products offer an outstanding price-performance ratio, high productivity, ease of use, a close-knit service network as well as high resale value, that more than pays for the investment in a Palfinger product over the period of its use.
Hook Lift

18 Ton, 20 Ton and 22 Ton capacity

Knuckle Boom Cranes

1 ton-40 Ton
Boom length from 4 Meter to 50 Meter
Sany Palfinger
Sany Palfinger offers a complete range of truck mounted stiff boom lifting solutions. Sany Palfinger models are equipped with load holding valves for safe crane operations and include a high speed boom extension and retraction with Return Oil Utilization and optimized lifting performance with the use of high tensile steel and hexagonal boom design.
Stiff Boom Crane

3 Ton-50 Ton capacity
Boom length from 4 Meter to 50 Meter
After Sale Services
AFTER SALE SUPPORT
AFTER SALE SUPPORT

Our commitment is First Class Aftersales Support. The Aftersales Support organization is providing a full range of services to support the business:
– Units overhaul
– Preventative maintenance and service
– Diesel pump overhaul and calibration
– Field service
– Service and maintenance contracts

For hassle free and low operating cost equipment

PARTS SUPPORT

A dedicated team in Parts department, we have more than 65000 line items in stock with availability level of more than 90%, and balance 10% in 72 hours, also we have emergency order process to support the machine shutdown and the warranty cases, able to deliver not only over the counter but also door to door through our parts van sales team

Our parts operations offer regular parts campaigns on filters, oils, coolants, clutches and braking sets on all our products.