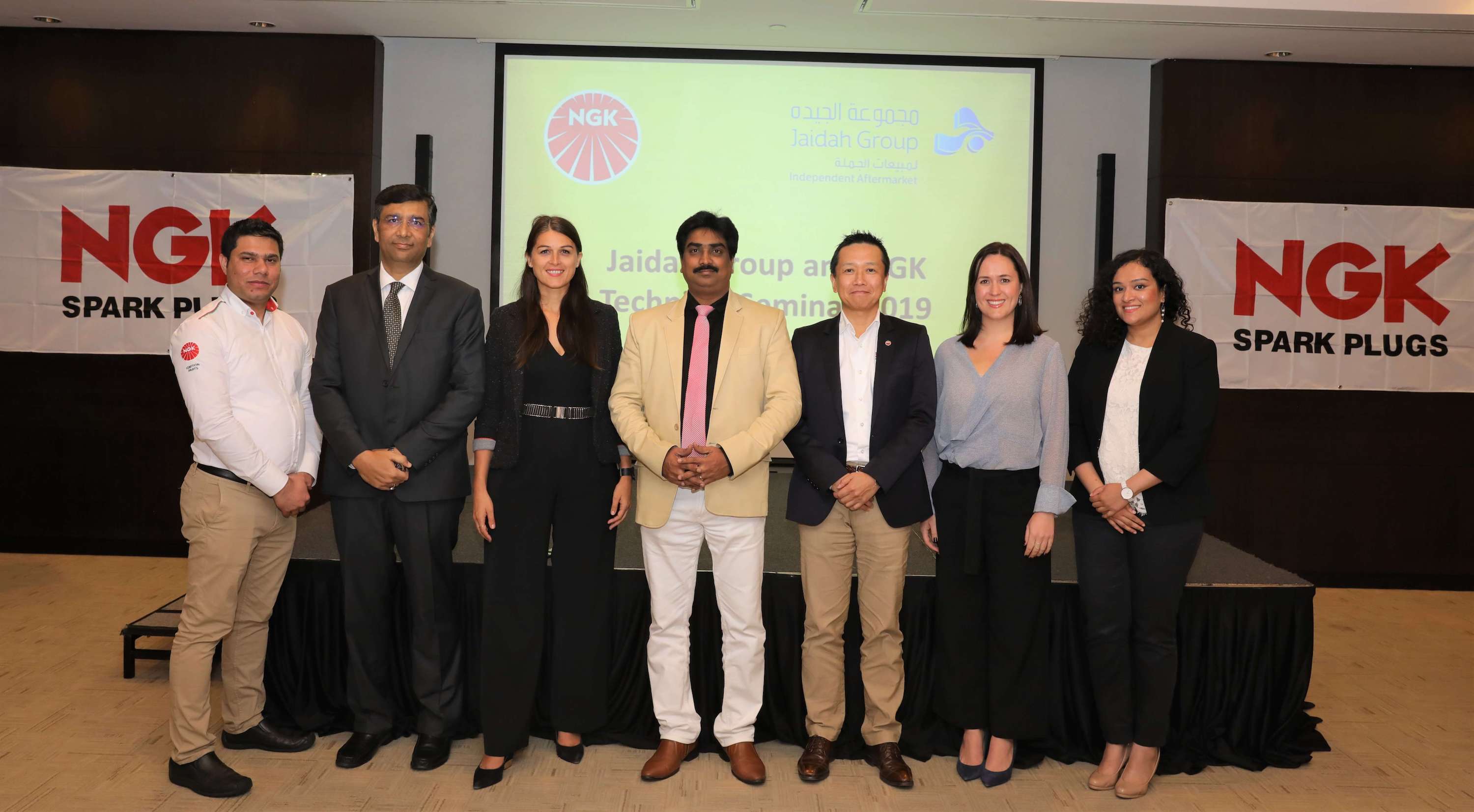 With the keynote message of how customers can increase their business by dealing in new products developed by NGK Spark Plugs, Jaidah Group's Independent Aftermarket Division held a technical seminar in Oryx Rotana Hotel. NGK Spark Plugs is the leading Japanese manufacturer of automotive ignition products worldwide. The invited attendees were primarily from the retail and wholesale automotive sector businesses like auto parts dealers, automobile workshops, garages, and technicians.
The event was headed by KT Rao – Wholesale Operations Manager, Jaidah Independent Aftermarket, Yoshihiro Goto – Managing Director NGK, Adil Rizwan – Product Manager NGK and Saeed Shahid – General Manager, Jaidah Automotive Independent Aftermarket.
Welcoming the attendees, KT Rao said, "Jaidah has business partnership with NGK Middle East since 2014. We have been very successful in developing NGK spark plugs business in Qatar since its launch and we have seen continuous growth year-on-year, thanks to the efforts of all our customers. Customers highly trust the brand because we have not received even a single complaint from the time we launched this brand in Qatar."
Rao also mentioned, "Owing to the large number of Toyota and Korean vehicles like Kia and Hyundai in the Middle East, NGK has come up with a unique solution. There is a special Red packaging for Toyota range spark plugs. The special Blue packaging is for the Korean cars."
Saeed Shahid (General Manager, Jaidah Automotive Independent Aftermarket) thanked all the customers. He also thanked NGK officials for their valuable business partnership with Jaidah. "Apart from the conventional NGK Spark Plugs, please look into its new upgraded spark plugs and sensor technology products to expand your business portfolio," suggested Shahid.
NGK Spark Plugs with its range of spark plugs, ignition coils, glow plugs and plug cables is a well-established brand in Qatar. Apart from showcasing the NGK range, Adil Rizwan (Product Manager, NGK) gave a detailed description about the second division of NGK which is the NTK Vehicle Electronics range of products. They comprise of Oxygen Sensors, Air Flow Sensors, Air Pressure Sensors and Camshaft/Crankshaft sensors. Emphasizing on their importance, Rizwan said, "We not only need to make our cars fuel efficient but also environment friendly. NTK's sensor technology plays a big role in this."
Rizwan added, "Some of our products introduced in Europe have been very popular and so we are introducing them to Middle East as well. For example, the Ignition Coil. Fitted directly over the spark plugs to provide stepped-up high voltage, it eliminates the need for plug cables."
NGK managing director Mr. Goto said, "With an 83 years' history, NGK is a brand with global reach. We have presence in almost all countries. NGK is the preferred brand in OEMs and Independent Aftremarkets. We produce spark plugs of OEM quality which are totally same as their genuine parts, and with zero defect. That is why we are able to do business with almost every car manufacturer globally. We are very proud of that fact. In Qatar, we are only dealing in the NGK range of products. We hope we can expand into the NTK vehicle electronics sensor products too. I thank Jaidah for being the sole distributor in Qatar and performing very well."
The event concluded with a Q&A session where customers examined the displayed products and got their queries answered.