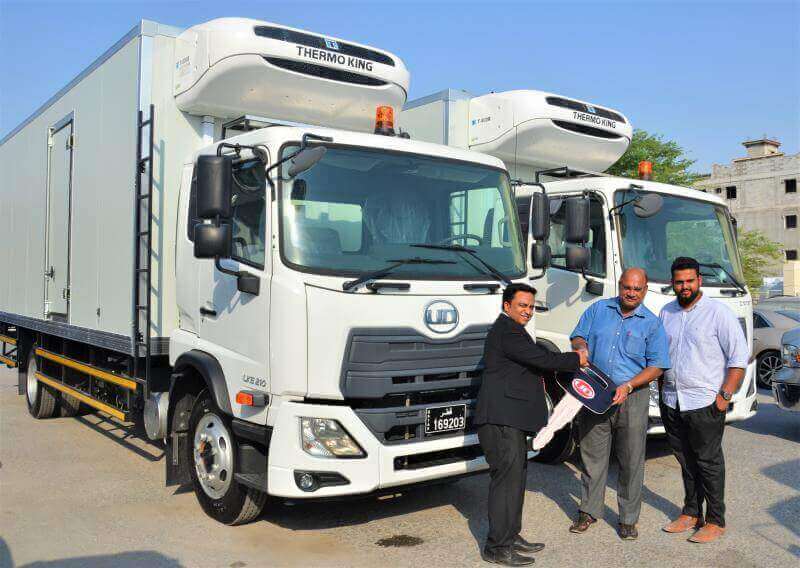 Abu Khalifa Trading Co. takes delivery of 2 UD Chiller Trucks from Jaidah HE division. The trucks will be used for transportation and deliveries of perishable food items like fruits, vegetables, milk etc in and around Qatar.
UD Trucks is a leading Japanese commercial vehicle solutions provider, active in more than 60 countries on all continents. To best support across applications and geographies, UD Trucks offers a full range of heavy duty trucks – Quester, medium duty trucks – Croner.
The trucks delivered are the model LKE210. It has a GVW of 12ton and a Payload of 7.5ton. It has an extra-large wheelbase of 5.5 mtrs. The engine is UD's own EU3 complaint GH5E engine which produces 210 hp power. UD Trucks come equipped with EU3 engine, ABS and Spark Arrestor as standard (ideal for oil field applications).
UD can develop multispecialty applications in trucks for you: Boom trucks, water tankers, sewage tankers, recovery vehicles, low bed and flatbed trailers with tractor head, hook loaders, skip loaders, chiller trucks, freezer trucks, dump truck, transit mixers and more.