Electrical
Welcome to Jaidah Electrical, where we have been providing electrical products, services and solutions to the public and private sectors for over 35 years. We are able to provide your organisation with the end-to-end solutions you need to move forward.

Delivering brighter solutions
Power & Proficiency
Call upon our expertise and access the world's most respected electrical brands, all supported by the best customer service.
Your success is our focus, something we have been delighted to prove by powering the development of Qatar's commercial sector for over 35 years. Whether your needs are for cabling, power distribution, wiring accessories, light fittings and fixtures or more solution-focused aspects like home automation systems, ICT/active data networks, IP surveillance and security systems, as and more besides, we can deliver. We are helping Qatar move towards a more sustainable future, daily.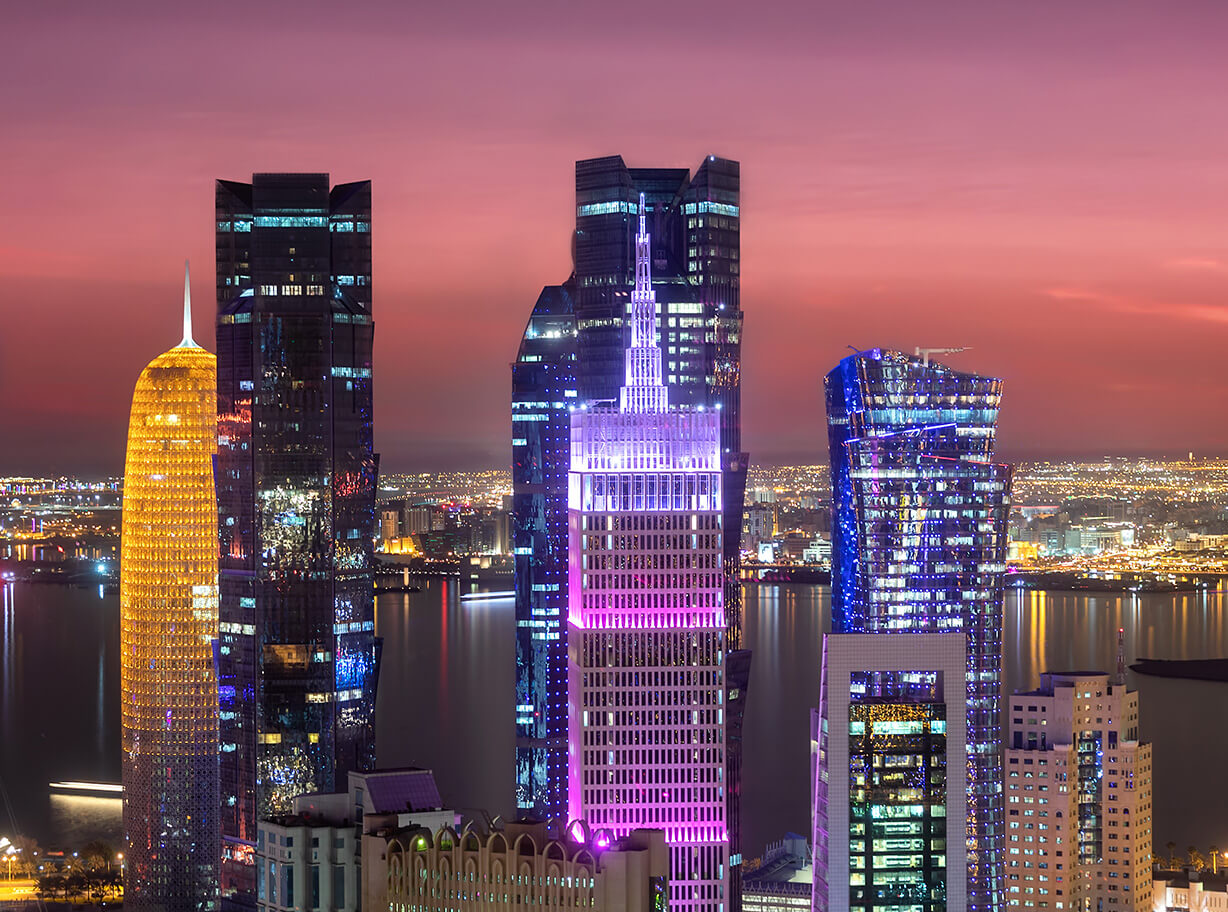 Electrical Division
Lighting
Switchgear panel factory
Jtech
Profile
Schneider Electric
As a global specialist in energy management with operations in more than 100 countries, Schneider Electric offers integrated solutions across multiple market segments, including leadership positions in Utilities & Infrastructure, Industries & Machines Manufacturers, Non-residential Buildings and Data Centers & Networks and in Residential. Focused on making energy safe, reliable, efficient, productive and green, the Group's 150,000 plus employees achieved sales of 24 billion euros in 2013, through an active commitment to help individuals and organizations make the most of their energy.
EASY 9 Distribution board and components

Lighting Control & Network Connectivity

Spacial – (CRN/ S3D) Steel Enclosure Box

Thalassa – (PLS/ PLM/ PLA/ PHD) Weatherproof enclosures

Universal Enclosures Complete Product Family
(CRN/ S3D) Steel Enclosure Box

Climasys – Thermal Management Solutions, Ventilation system, Temperature & Humidity Control, Cooling Units

SF 19' Rack Units/ Server Rack Enclosures

SF Modular Type Enclosures
ABB
ABB is a pioneering technology leader that works closely with utility, industry, transport and infrastructure customers in roughly 100 countries. They are a leader in digitally connected and enabled industrial equipment and systems with an installed base of more than 70,000 control systems, connecting 70 million devices.
Cast Resin Dry Type Transformer

Enclosed Disconnect Switches
LS
LSIS supply customers with convenient and smart energy. They are leading the way towards a new future through innovations that exceed our customers' expectations.
LSIS are creating an efficient and convenient future through ICT convergence and the integration of sophisticated technologies, creating an abundant future by delivering safe and clean energy.

Legrand
Legrand is the global specialist in electrical and digital building infrastructures, offering high-value-added products and solutions for commercial, residential and industrial buildings. Committed, the group works every day to accompany the development of connected buildings and provide sustainable access to electricity for millions of users around the world.
Technological expertise, leading positions, a wide product offering, an international presence and powerful brands combine to make Legrand a global benchmark. With a presence in nearly 90 countries, having its products distributed to almost 180 countries and a workforce of over 37,000 employees, Legrand has reported annual sales of more than €5.5 billion.
Plug Tops, Ceiling Rose, Chimes, Extendable Sockets

Pop-up Boxes and Floor Boxes

Uninterruptible Power Supply (UPS)
Tenby
A famous name more than 70 years ago, a modest electrical supplies company was established in Tenby Street, Birmingham. Today, Tenby products still carry the famous name from all those years ago, a name which is today recognized as one of the UK's leading brands for wiring accessories.
Tenby has a string of firsts to its name. It was the inventor of the first plaster depth switch back in the 1930s, the earthing clamp (around which the British standard was defined) and one of the first automatically isolated safety lamp holders

Kopex
As a globally renowned leader in cable protection, Kopex offer a range of solutions providing protections for rail, construction and industrial applications. The Kopex name stands for quality and reliability. Quality assurance in manufacture is backed up by accreditations from major organizations worldwide.

Rexton
Rexton Technologies, which originated in the UK in the late 50's is today a major player in cutting-edge technology driven industries like air movement, heating and ventilation, lifestyle and security, metal and pvc cable management systems, emergency and exit lighting, home and professional appliances, weather proof and energy efficient allied accessories with an extensive range of over 5000 products sold and serviced across 120 countries globally.
Rexton Technologies has a most modern infrastructure setup including machines from international brands for all areas of manufacturing, and integrated in-house capabilities for achieving the required finish, specifications and output needed to
manufacture high quality products.
Cable Management System – Metal

Cable Management System – PVC
OSRAM
OSRAM, based in Munich, is a leading global high-tech company with a history dating back more than 110 years. Primarily focused on semiconductor-based technologies, their products are used in highly diverse applications ranging from virtual reality to autonomous driving and from smartphones to networked, intelligent lighting solutions in buildings and cities. OSRAM's identity is shaped by a long tradition of innovation in the field of lighting technology, and they are shaping the future with all kinds of solutions in the areas of visible and invisible light. OSRAM utilizes the infinite possibilities of light to improve the quality of life for individuals and communities. OSRAM is one of the two leading light manufacturers in the world, covering the entire value chain from components – including lamps, opto semiconductors like light-emitting diodes (LED) – to electronic control gears as well as complete luminaires, light management systems and lighting solutions.

LEDVANCE
LEDVANCE is one of the world's leaders in general lighting for lighting professionals as well as end users, offering a broad variety of LED luminaires, advanced LED lamps, intelligent and networked smart home & smart building solutions as well as traditional light sources. Emerging from the general lighting business of Osram, having offices in more than 50 countries and business activities in more than 140 countries, LEDVANCE possesses an outstanding global market access built on trusted, long-standing customer relationships and a powerful distribution network. Based on the in-depth understanding of the general lighting market, trending technologies and changing needs, LEDVANCE supports the specific and individual demands of both direct and indirect customers. LEDVANCE wants to define the role of light in the digital age and in people's connected daily lives, with objective to advanced light. LEDVANCE can draw on a 100-year heritage as it looks to the future, reinforcing its position as a leading manufacturer of lamps
and luminaires.
Surface Luminaires/Ceiling

LED Lamps for Special Applications

LED Lamps with Classic Bulb Shapes

LED Lamps with Special Functions
ORBIK
In 1982 ORBIK quickly developed into a respected manufacturer of high quality and reliable emergency lighting control gear, supplying lighting manufacturers across the UK. Their ability to maintain high standards of customers service quickly confirmed ORBIK as a leader in the supply of lighting and emergency lighting products. ORBIK's passion towards  maintaining successful partnerships with customers enabled new markets to be explored and this rapidly expanded ORBIK's range of products. With over 300 kite marked BSI approved products, ORBIK's dedication towards their consistent high-quality manufactured products allows their customers to confidently specify ORBIK as their provider of solutions
Palomo Emergency Luminaires

Chella Emergency Luminaires

Eden Emergency Luminaires

Odet – Led – Emergency Twin-Spot
ZALUX
Since 1980, ZALUX is an expert in weatherproof luminaries, based in Spain. Developed and constructed to achieve high efficiency, safety
and functionality, ZALUX offers best quality to price ratio, whilst evolving state-of-the-art technologies and developing cutting-edge solutions focused on the needs of customers, all over the world.
The result is high reliability even in extreme conditions, such as humidity, dust, cold temperatures and mechanical, as well as chemical influences. Increasing concern for sustainability and the environment has generated new technology developments in energy saving and CO2 emissions reduction. To encourage sustainability, ZALUX has a full package of support for improvement, research and development in luminaires. LED technology has furnished the lighting sector with a way to play its part and ZALUX has adapted this new technology into its new purpose-built luminaires.
Their products are manufactured in Spain at two 42,000 m2 plants in Alhama de Aragon.
Zalux – Weather Proof Ip65 Led & Fl Luminaires – T8
Appleton / ATX
Light fixtures that work flawlessly and stand up to harsh conditions go virtually unnoticed every day, which is exactly the point. Appleton™ ATX light fixtures are designed to withstand the harshest conditions and operate across your facilities without incident. A century of innovation and testing makes sure of that. From area to task, flood to emergency, Appleton has a light fixture perfectly suited for use in hazardous, corrosive and ordinary environments. Appleton ATX hazardous area lighting is suitable for installation in both flammable gas / vapor and combustible dust applications.
Appleton ATX lighting ranges are ATEX and IECEx certified suitable for both Zone 1 and Zone 2 hazardous areas. Plugs and sockets of Appleton ATX are used with portable or stationery electrical equipment such as lighting systems, conveyors, heaters, motor generators, air conditioning equipment, compressors and pumps. These products are widely used in corrosive atmospheres and installations in Zone 1 and 2 and 21 and 22 of the oil and gas industry: such as refineries, chemical and petrochemical plants, pipelines, loading docks and onshore and offshore drilling platforms.
Junction Boxes, Sockets & Plugs

Fluorescent & LED Luminaire
Oriental Copper
Oriental Copper is a world-class leading manufacturer of high conductivity copper busbar and copper fabricated products. The copper material they produce is able to achieve an electrical conductivity of 101% IACS, and has excellent mechanical properties suitable for many applications in the electrical energy business and electronic industry.
Their manufacturing plant at Chon-buri in Thailand operates an ISO certified, fully integrated, semi-automatic production system ensuring limited direct human contact with the copper.
Doha Cables
Doha Cables is proud to be the first Qatari cable manufacturer producing national product and contributing to the sustainable development of the state of Qatar.
MV Power Cables Single Core with Lead

Earthing Cables PVC and LSHF

Earthing Cables PVC and LSHF

Fire Resistant LV Power Cables

Fire Resistant Wires and Earthing Cables

LV Power Cables PVC and LSHF 2,3.4,5 Cores

LV Power Cables PVC and LSHF Single Core

MV Power Cables 33 KV Single Core
Leroy Somer
Over 100 years, Leroy Somer has become a world leader in electric motors, electromechanical and electronic drive systems and industrial alternators
Variable speed drives panels

Industrial and explosion proof motors
Havells
Havells India Ltd is a billion-dollar-plus organization, and is one of the largest and India's fastest growing electrical and power distribution equipment manufacturers with products ranging from industrial and domestic circuit protection switchgear, cables and wires, energy meters, motors, fans, power capacitors and bath fittings covering the entire gamut of household, commercial and industrial electrical needs.
All wires and cables are manufactured on most modern laser controlled automatic machines, using best raw material from primary manufacturers ensuring perfect quality.

Phoenix Contact
Founded in 1923 with headquarters in Germany, Phoenix Contact have become a global market leader and innovator in the electrical engineering field, operating in over 10 nations. They are also a family company working responsibly to shape products and solutions for all aspects of electrical engineering and automation.
Energy and Power Measurements

Industrial Color Printing

Relay Modules – Plug-in, Industrial PLC, Slim Relays, Programmable Logic Relays, Monitoring Relays

Terminal Blocks, Connectors
Weidmüller
Weidmüller – headquartered in Detmold, Germany is the leading provider of solutions for electrical connectivity, transmission and conditioning of power, signal and data in industrial environments. The company develops, produces and sells electromechanical connection technology, switching cabinet electronics and network infrastructure components. For OEM suppliers the company sets international standards in the engineering, procurement, manufacturing and distribution of customized solutions.
Weidmüller Middle East Center covers all Middle Eastern countries including Africa and India region. They are the regional distribution center for customer specific solutions and offer a hazardous area and industrial product solutions.
Relay modules – Plug-in, Industrial PLC, Slim relays, Programmable logic Relays, Monitoring relays

Terminal Blocks & Connectors
Veritek
Established in 1995, M/S. Veritek Engineering is a pioneer in manufacturing a wide range of electrical panel meters, multifunction meters, DPMs, current transformers, protection relays, and transducers timers etc. since 1995.
Veritek have received the ISO 9001:2000 certificate from TUV by combined efforts of their entire team. They have an in-house enclosure moulding with their own moulds to ensure best quality finishing and aesthetic of products as well as SMT machines, in-circuit testers to ensure that the manufacturing processes are error free.

Lighting
We provide the entire spectrum of Integrated services in lighting solutions, whether it is getting involved with the architects at the conception stage to build lighting design as an integrated part of the project, defining technical specifications, or supplying and installing quality lighting products during the execution stage. We provide value-engineering services at any stage in order to help re-align the project objectives and costs with changing market dynamics and also conduct light audits with comprehensive reports for the existing installations.
Emergency and Exit Lights

Explosion Proof and Fire Rated Lights
Switchgear panel factory
In 2006, Jaidah Group officially launched operations of its first panel factory for LV switchgear. Due to its great success, in 2017, we decided to expand our operations by launching a 2nd panel factory, giving us an added advantage to supply the Qatari market with competitive prices, better availabilities and excellent after-sales support. Located in the Industrial Area, both factories are operating with maximum collaboration, as one entity and are approved by Schneider Electric (France) and LSIS (LG Group South Korea).
The production line consists of a panel production area, bus-bar working area, testing, packing and shipping area. The panel factory is an approved vendor of Kahramaa and Ashghal, as well as many other public and private authorities.
Main clients include Kahramaa, Ashghal, Qatar Rail, Hamad Hospital, health care centers and the American base. A group of reputable towers and hotels in Doha, including White Square, VIP hotels, IBIS hotel and Rotana hotel.
VFD Panels
(DOL, START DELTA, VFD, SOFT STARTERS, 2 SPEED MOTORS)

Distribution board (DB) & Submain distribution boards (SMDB)

Standard application
Nonstandard application (ex: Hotel room DB with smart card)
Standard panels: 250A, 400A,630A – with metering kit
Nonstandard panels: up to 1600A – with metering kit

Feeder pillars
GRP Universal Enclosures from Spain, which offer extremely safe and protected feeder pillar panels for street lighting.

Motor control centers (MCC'S)

Up to form 4 type 7 withdrawable Complied with latest Ashghal regulations and requirements for building & drainage departments

Synchronization panels
Up to 6300 A
Currently operating at Hamad Hospital women's hospital extension project.
Jtech
New homegrown product range. A new product range of electrical items.
Business Categories
Medium Voltage
Switchgear
Transformers
Low Voltage
Switchgear
Power Distribution Energy Efficiency EV Mobility Motors
Motor Control HVAC control Industrial Automation
Oil & Gas Hazardous area solutions
Energy Management
Lighting
Earthing and Lightning Protection
Services
Power Quality Study
Infrared
Thermography
Harmonic Analysis
LV Co ordination
Study
Short Circuit Analysis
Preventive
Maintenance
AMC
Transformer Services
Load Analysis
Condition Monitoring
Energy Audit
ROI Analysis
Predictive Maintenance
Lighting Calculations software
Modification
Retrofit
Smart Upgrade
Installation
Supply & Apply
Testing
Commissioning
Replacements
Repair
Training
Handover
As – Built
REF Relay Testing
Solutions
Value Engineering
Audits
QA/QC
Asset Management Consultancy
Network Modelling
Research
Process Optimization
Energy Management
Project Management
Products
11KV Switchgear
Transformers
LV Busduct /Busways/Busbars
Industrial PLC & SCADA
LV & MV Motors – Safe & Hazardous Area
Earthing & Lightning Protection
Explosion Proof – ATEX certified Products
Industrial & Process Drives
LED Lighting – Interior, Exterior, Facade, Landscape, Street Lighting, decorative
ATEX JUNCTION BOX
Low Harmonic Drives
ATEX LIGHTS
Auto Power Factor Correction
ATEX Panels, DBs, Plugs & Sockets
Active Harmonic Filters
Lighting Control System
Static Transfer Switch
UPS
Electric Vehicle Chargers
EV Charger Management Software
Protection Relays
Smart Relays
Smart Metering
Energy Monitoring Panels
Energy Management System Software
Auto Voltage Regulator
Power Frequency Converter
RF shield Filters
Under Ground retractable Feeder Pillars – Gas spring operation
Industrial sockets
Wiring Accessories
HVAC Controllers
HVAC Drives
Home & Office Automation
IOT
Factory Built Assemblies
LV Cubicle panels – Fixed & Drawout
LV Cubicle MCC (Form 4 Type 7) – Fixed & Drawout
MDB, SMDB, DB
BMS & DDC Panels
Jet Fan CP
Battery Charger panel
Capacitor Banks
ATS – With By Pass
MTS
Smart LV Panels
AHU CP
FCU CP
IP68 Submersible Junction Boxes
DOL, Star – Delta Panel
Dual Speed/2-Speed Starter Panels
Reduced Voltage Soft starter Panel
VFD Panel
Industrial Socket Panels
DCU CP
Auto Transformer Panels
Generator Synchronization Panels – 7000A & 10000A
Stair case Pressurization system
Car Park Ventilation
Damper CP
Control Transformer Panels
Feeder Pillars
Outdoor Kiosk
GCP
HVAC CP
CO Monitoring